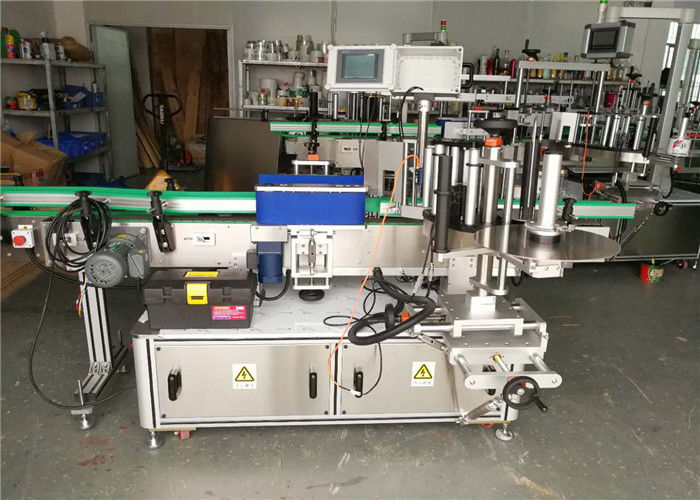 Detailed Product Description
| | | | |
| --- | --- | --- | --- |
| Model: | Round Bottle Labeler | Classification: | Automatic |
| Labelling Material: | Plastic/Glass | Specification: | L2000×W700×1400mm |
| Label Roll Core: | 76.2mm | Label Roll Diameter: | 330mm |
Automatic Bottle Label Applicator For Plastic / Glass Round Bottle
Description
1. A wide range of labeling: suitable for labeling various types of round, square, bottle, battery, all kinds of flat labeling, carton sealing, cardboard boxes and other special-shaped objects; in medicine, food, daily chemicals, electronics , And other industries until widely used.
2. Man-machine interactive touch screen, simple, intuitive and convenient: easy to operate, intuitive, with a wealth of help functions and fault display.
3. Mechanical design, material selection SUS304, accord with GMP standard :: Sturdy and durable machine base and various parts, adopt standardized modular design with complete interchangeability, parts are made by CNC machining center, 24 hours operation, ensure safety and stability ; Chassis, using stainless steel SUS304 material and T6 aluminum alloy, never rust, in line with GMP specifications.
4. Schneider PLC and functional modules, Schneider servo main motor out of the standard, Schneider frequency control: stability and high synchronization, the fastest response speed of up to 1200 Times / min, and the torque is strong, never out of step.
5. Printing equipment is flexible, clear printing: flexible matching hot stamping machine or inkjet printer and other configurations, synchronization and marking the completion of coding.
Introduction
1 , The different packaging objects into the conveyor belt, the conveyor belt to drive the bottle into the sub-region, the transport mechanism continued to move, depending on the optical fiber to detect the bottle, the optical signal to the PLC, the PLC will be processed after the output The signal is transmitted to the stepping motor, which is marked by the stepping motor. The label is pasted to the bottle through the rolling mechanism. The object after the labeling is conveyed by the labeling machine conveyor belt into the next process or container.
2 , The main engine adopts servo motor drive, Delta (Taiwan) PLC control system, Delta (Taiwan) touch-type man-machine interface, God as optical fiber (Japan Keyence) devices and other original imported parts, brings together many leading technologies, The industry has become one of the products of technological superiority. Microcomputer automatic control, user-friendly touch-screen interface, sophisticated mechanical structure, so that simple, powerful; can achieve the number of labels set, labeling count, print control, labeling control, off standard, Tape and other abnormal conditions such as automatic detection and alarm functions; random capacity display and label quantity management; label elastic adjustment; label length and clearance calculation; host height and position adjustment; optional ribbon coding machine; Label detection photoelectric sensor sensitivity adjustment. The machine is made of high-quality T6 aluminum alloy and SUS304 stainless steel, work well, in line with GMP norms. MPC-AS vertical adhesive labeling machine is a very cost-effective products.
Characteristic
1 , Designed for the application of front and/or back panel labels with the capability to label containers
that are round, square, oval or rectangular.
2 , Heavy-duty construction utilizes oversized drive components combined with an aluminum and stainless steel base frame for years of dependable service.
3 , Various product infeed systems are available that provide precise product spacing and orientation. It can be used stand alone or integrated in-line and matching filling equipment speeds.
4 , Advanced high torque micro-stepping driven applicators include ratio-offset and speed-following capability for accurate and reliable application of a wide variety of label materials.
Useage
1, Round bottle labeling is suitable for pharmaceutical, food, cosmetic and other industries, can be attached to the whole week and half circle labeling labeling.
2 , Optional automatic turntable machine, can be directly connected to the front end of the production line, automatic feeding bottle into the labeling machine, increase efficiency.
Working principle
1 , The control system is provided with a control system to send out the label and attach to the product to be in the position of the label, the product flows through the marking device, the marking belt drives the product to rotate, the label is rolled and a label attached to the action is completed.
2 , The core work principle: the bottle body will be separated from the product, the sensor detects the product passed, the signal back to the label control system, in the appropriate place.
3 , Operation process: put the product (can be connected line) - > product delivery (equipment automatically realized) - > product range - > Product Detection - Labeling - > cover label - collection has been labeling products.
Scope of application
1 , Applicable labels: self adhesive labels, adhesive film, electronic regulatory code, bar code, etc..
2 , Applicable products: products that require a label or film on the circumferential surface.
3 , Application industry: widely used in food, medicine, cosmetics, daily chemical, electronic, metal, plastic and other industries.
4 , Application examples: PET round bottle labeling, plastic bottle labeling, food cans, etc..
Service
1 , Range experienced senior engineer come to client company for installation .
2 , If quality problems arise, the supplier provide technical support and timely supply wearing parts.
3 , Supply systematic operation training for client workers.
4 , client usedthe machine for several years, we can provide a detailed refurbishment program, the original equipment and replacement of hardware and software upgrades, extend machine service life for more than 3-4 years.
5 , Guarantees all equipment (except human factors) within one year, lifetime maintenance sevices.
Apply to
1 , Label inner diameter is 76.2mm,max outer diameter is 330mm.
2 , The machine is apply to the Daily Chemical and Food Industry,
3 , Labeling max width is 190mm(can be raised according to the require).
4 , Bottle diameter of Thickness is greater than or equal to 30mm,height is less than or equal to 500mm.
Technical Parameters
| | |
| --- | --- |
| Production speed | 45m/min |
| Labeling accuracy | ±1mm |
| Label max width | 190mm(can be raised according to the require) |
| Bottle diameter | Thickness≥30mm height≤500mm |
| Label inner diameter | 76.2mm |
| Label outer diameter | Max330mm |
| Outline size | L2000×W700×1400mm |
| Weight | 380KG |
| Using power | 220V 50HZ 1500W |
Advantages
1 , Most component are made by aluminumofanodizing3.0 side board,cutting the weight and cutting the transportation fees.
2 , The production max speed is about 45m/min.La
beling accuracy is ±1mm.
3 , The machine's Using power,dimension,Weight are customized.
Details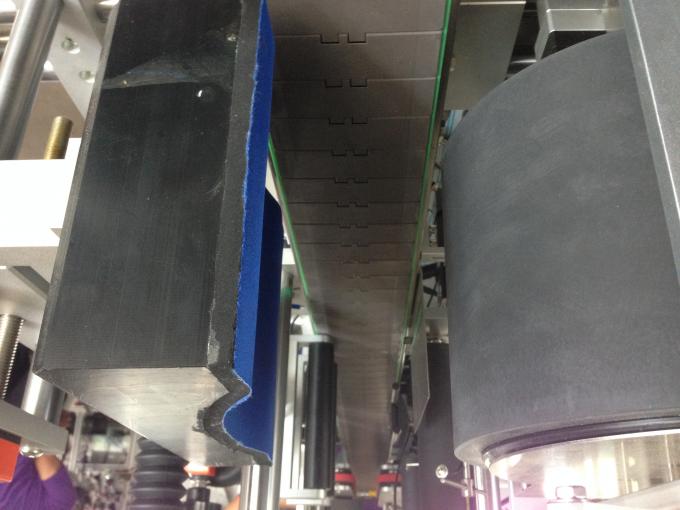 Tag: automatic labeler machine, bottle labeler machine