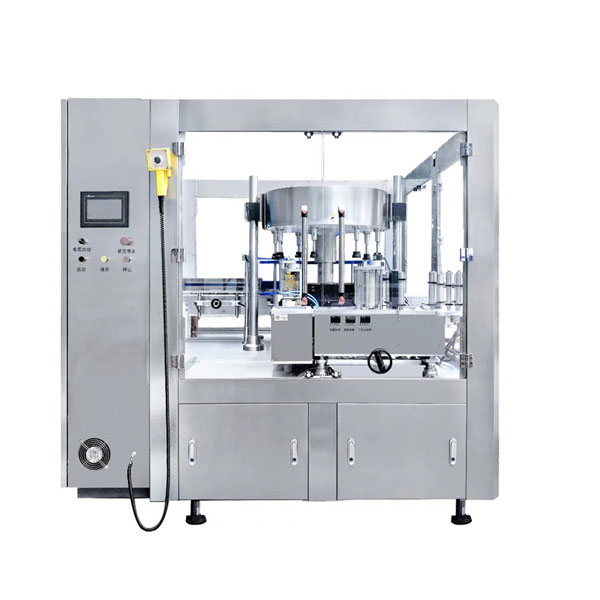 Detailed Product Description
| | | | |
| --- | --- | --- | --- |
| Label Paper Core's Inner Diameter: | 76.2mm | Label External Diameter: | 330mm |
| Labeling Capacity: | 50m/min | Labeling Accuracy: | ±1mm |
| Labeling Type: | Rotary And High Speed | Label Sensor: | Magic Eye |
3 label in one time Round Glass Bottle Labeling Machine with the capacity of 200 bottle per minute
Applications
1. For single size bottle with big quantity .
2. One bottle with three labels
3. Speed 12000B/H with front and back ,neck labeling
4. Three sets labeling head with 15 stations
Technical Parameter
| | |
| --- | --- |
| Power supply | AC380V 50Hz 5.5KW |
| Labeling accuracy | ±1mm |
| Label max height | 195mm |
| Labeling capacity | 50m/min |
| Bottle diameter | hickness≥30mm Height≤500mm |
| Label paper core's inner diameter | 76.2mm |
| Label external diameter | 330mm |
| Overall measurement | L1740×W3020×H2100mm |
| Weight | Customized |
Rotary labeling machine Characteristic
1) Labeled bottle pass screw separate bottle sector running to turnbtalbe
2) After bottle turned to startwheel,automatic turn under pressing bottle head driving
3) A prominent location pin At the bottom of the bottle base will rise,when the bottle positioning groove through the dowel pin under the action of spring force, Locating slot, stuck slot bottle is no longer rotating, the upper part of the sliding pressure bottle and the bottle cap.(for positioning products)
4) Due to the bottle labeling position is spherical, so request to stick the starting point for the halfway point of the bottle, the label come out from delivery station, suck on the vacuum drum at first
The operation of the vacuum drum and the main wheel is one to one running, after the vacuum drum with a label running to corresponding position , middle part of label first adhesive the highest point , the bottle preliminary label action
5) When the bottle continue to run to the next station, pressing label sponge roller to pressure label action, pressure of the roller movement is in contact with the bottle plane, not to Rotation, so that the force for pressing label will be scattered around, these labels can be uniform deformation and complete labeling.
6) labeled bottle send to conveyor, under the drive of the star wheel
7) the complete labeling process is in continuous operation ,the bottle is running at a constant speed all the time, so it can realize the high speed labeling
3. automatic rising-lowering Functions: microcomputer automatically rising and lowering adjust, adopt German SEW motor control, used in the production adjustment is very convenient.
Special Instruction
1) for the positioning products, need to note: need make a locating slot in the bottom of bottle, under the condition of non-effect the appearance of bottle, the locating slot at the bottom of the locating slot to as far as possible
Outside depend, located slot at the bottom of bottle is very important, and more equality , not different depth
2) Change different bottle type, need to change parts, the price need discussion, depending on the bottle shape.
(replacement as follows: fence for feeding bottle, star wheel for bottle feeding, middle guide board, bottle base, star wheel for bottle coming out )
Tag: rotary labeler, adhesive labeling machine